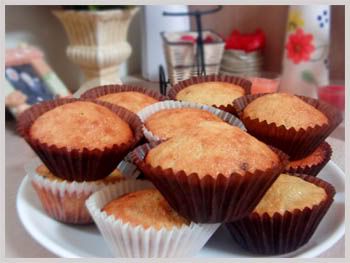 Ingredients:
1/2 cup butter(softened)
1 cup white sugar
2 eggs
2 sudu besar susu segar
2 camca vanilla extract
1 cawan mashed banana
11/2 cawan all-purpose flour
1 1/4 camca baking soda
1/2 camca garam
Methods:
Preheat oven 200 degrees....Griskan bekas pembakar...
Sift flour, baking soda and salt in a bowl. Cream butter and add sugar. Beat until fluffy. Then add eggs one at a time.

Put the dried ingredients in the butter, and then add in the vanilla extract and milk, mix until incorporate.

I add in some chocolate chips in the batter.