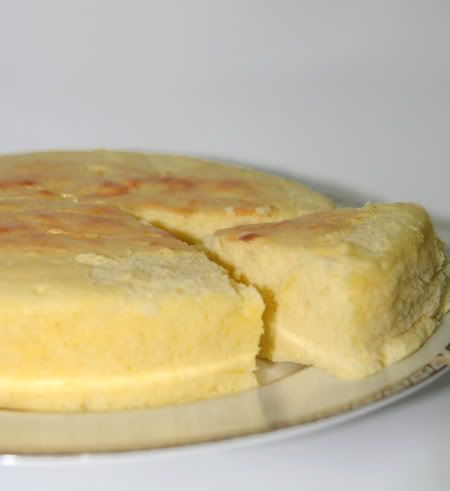 Japanese Souffle Cheesecake
200gm cream cheese (Room temperature)
50ml fresh milk
3 eggs (Seperated)
100gm castor sugar
30gm cornstarch
2 tablespoon lemon juice
1/2 teaspn cream of tartar

Method

1. Preheat oven at 175 deg cel. Line 18cm cake tin with grease proof paper.
2. Soften cream cheese in large bowl. Add milk and continue mixing with med speed.
3. Add 1/2 of the castor sugar, egg yolks, cornstarch, lemon juice and cream of tartar, combined together.
4. whisk egg whites in seperate large bowl until stiff peak formed. Add the remaining sugar little by little until mixture stands in stiff peak. ( Petuanya kalau diterbalikkan bowl pun putih telur yg cukup kembang tu takkan tertumpah..cubalah..tapi kalau terkeluar jugak..heh heh heh....kena buat lain la jawabnya..)
5. Fold half of egg whites mixture into cream cheese as gently as possible. Fold the remaining eggs gently but thoroughly.
6. Water bath bake for 45 mins on the lower shelf.
( Pasal masa baking ni mungkin terpulang kepada oven masing2.. )
7. Leave in the tin until cool enough to handle.