Assalamualaikum.
Resipi ni khas buat NANA ngn MAMAST..salin jgn tak salin!!!!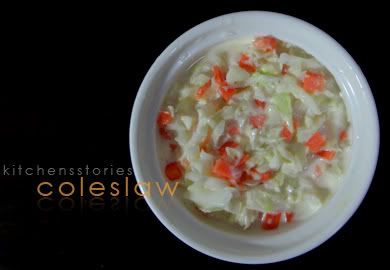 Ingredients:
1 biji kobis (finely chopped)
1 batang carrot, medium size (shredded, chopped)
1/3 cup granulated sugar
1/2 teaspoon salt
1/8 teaspoon black pepper
1/4 cup milk
1/2 cup mayonnaise
1/4 buttermilk--> boleh substitute dengan plain yogurt kalau tak ada
1 1/2 tablespoon white vinegar
2 1/2 tablespoon lemon juice
Method:
Cabbage and carrots are chopped up into sizes of rice kernels. Combine the sugar, salt, pepper, milk, mayonnaise, buttermilk, vinegar and lemon juice all together in a bowl and beat until smooth. Add cabbage and carrot and mix well. Cover with plastic cling and refrigerate for AT LEAST 2 hours before serving.